I am thrilled, THRILLED I tell you. Why? Oh, nothing much...I'm just guest posting at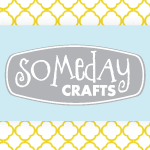 I absolutely love this blog! Michelle, the author, just had a beautiful baby and she selected me as a guest poster.
I had intended to beef up my blog with more posts in anticipation of this totally exciting turn of events, but I put way too much pressure on myself. I think part of the reason I reached this mental block is because I don't have a house to fix up. I can't really change out light fixtures and redo the bathroom. So all of my craftiness is limited to actual crafts.With the loss of my workroom I have been in a total slump.
But trust me, the post for
Someday Crafts
is, in my humble opinion, one of my best projects to date.
I figured out a way to make a Hair Supply Organizer out of this...
Don't miss it!