Well, hello all. Sorry I have been so absent as of late. My life has been crazy busy and NO crafting has happened. I promise that is about to change. I got a huge bolt of inspiration from (where else?)
Pinterest
! So within the next week or so you should see some fun projects coming up, including the return of my favorite
holiday blocks
. Are you just dying to know? Is the suspense killing you?
Well, I'll provide you with a little bit of life support to tide you over.
Kelly, at
Running with Glitter
will be starting a Healthy Living Link Party. She has spent the last year losing 90 pounds! Amazing right? Well, like me she has felt a few of those pounds creep back on. She is doing the Link party as a way to help us all share information and motivate one another to living healthier lives. Kelly is one of my favorite bloggers and I plan to participate in this party. I want to hit my goal weight, which is 25-30 lbs away.
So check out Kelly's blog and join the fun!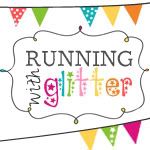 In case you were wondering: I have not been asked to advertise for this blog or party. I just felt so inspired that I had to share!!