I'm auditioning for One Month to Win it (Season 2)!
Check out the details here: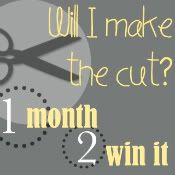 Wish me luck!
*One Month to Win It is a monthly crafting competition. They will choose 12 bloggers to compete in crafting challenges each week (for example, this week's challenge was to make something using trash!). Every week, after the challenge, three people will be eliminated. The last woman standing will win some great prizes. I am hoping to compete in April. You should definitely check out the website to see how it works!